2ndstflip Living Spaces : Final Reveal
Our favorite type of flip houses need mostly cosmetic updates and come with the expensive yet not-so-fun stuff complete (mechanical, electrical, windows, etc). That was exactly this house. Being located in a hip and creative neighborhood where the selling prices of homes are perfect for young families and first-time buyers, we went bold with our design choices to create vibrant, playful spaces. We had a blast revitalizing the living spaces in this house and giving it that wow-factor that draws in buyers.
We flipped this house in 7 weeks and after 4 days on the market it had 14 showings and sold with multiple offers over asking price. Can't complain!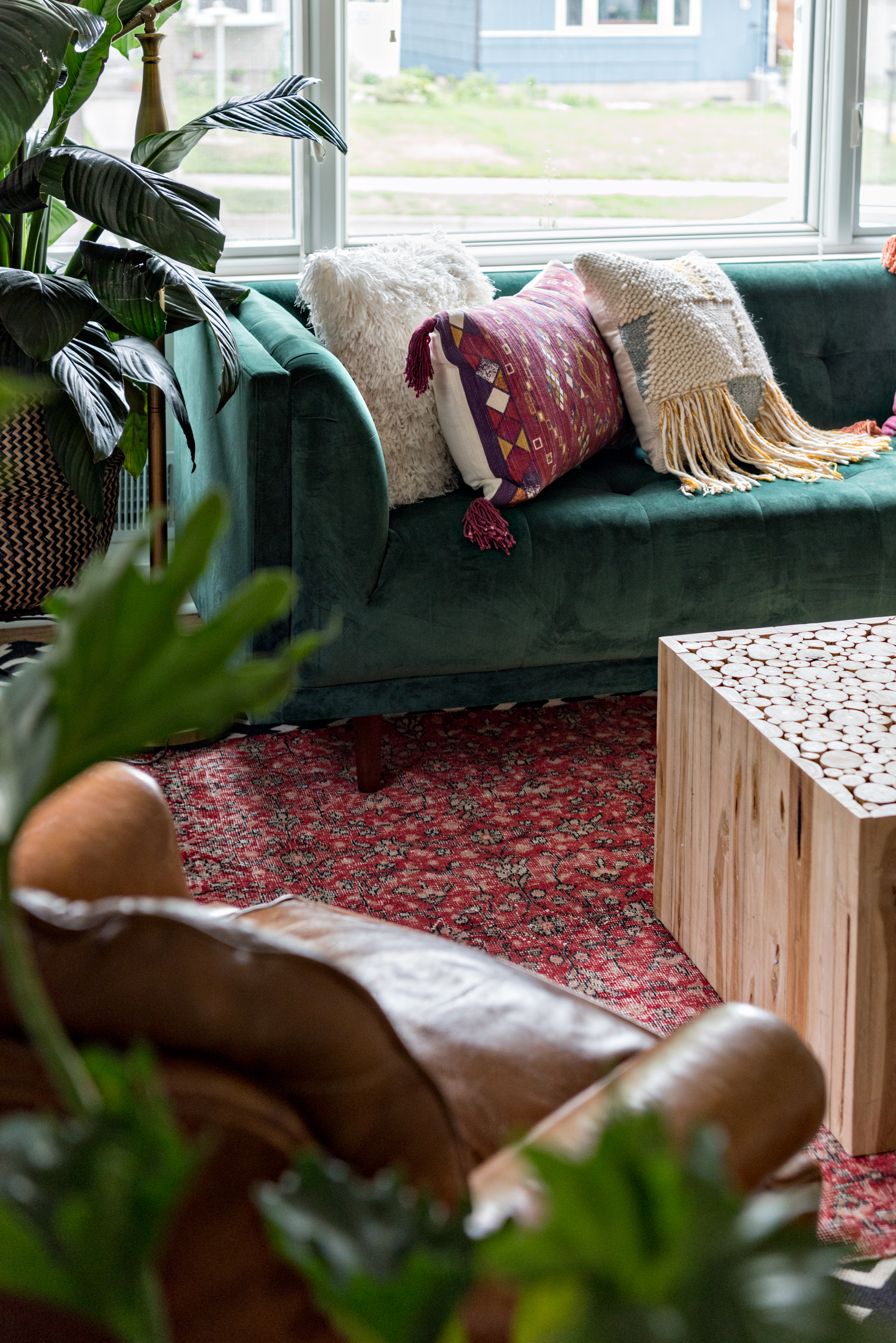 Here are some before and progress photos.
The partition in the niche, unnecessary track lighting, popcorn ceilings and mismatched (or missing!) trim all had to go. The wood floors clearly needed some attention, too (Just look at them, yuck!).
And here are the after photos!
When staging this flip house we played with layering various textures, patterns, and colors to create bold and interesting spaces. One of our favorite color combos right now is green and pink so we made sure to carry these fun colors throughout the house.
Talk about a bold design choice. We are obsessed with this emerald green velvet sofa from Wayfair. Now how many people can say they own one of these? (The new homeowner, that's who. They bought nearly everything we used to stage the space!) This sofa is both playful and sophisticated making it a perfect addition to this living room. We layered the couch with some fun throw pillows, one of our favorite ways to add color and texture.
Another affordable trick we use when staging is to layer area rugs. Spend your money on a smaller top rug, then use a more affordable cotton rug underneath. Here we layered a colorful vintage wool rug that brings in the reds and pinks from around the room on top of a black and white geometric patterned rug from Urban Outfitters.
We found these matte black ceramic kitchen containers at Home Goods and decided to use them as planters. Take a look at this wood coffee table from Wayfair (unfortunately it's no longer for sale, so we can't link ya). You just can't look away, can you? We love how this coffee table provides another great textural aspect while adding some warmth to the room.
And now for our favorite piece of staging...drum roll please....plants! Plants are always a great way to bring some life to a space, and it sure helps that they are our favorite color, green! These little guys pull out the green from the couch and add another layer. We also included two larger plants, one behind the couch and the other next to the chair. Large plants allow you to bring something big into the space without spending a lot of money.
What could be a more appropriate focal point in a living room than a living wall? This living wall is one of our favorite elements of this flip house. It is located on the wall opposite of the front door so it is the first thing your eye is drawn to when you enter the space. I mean, how could you not be happy to come home everyday and be greeted by a vibrant wall of little green plants? This living wall was a fun and inexpensive DIY project that makes great use of the niche, adds a bold focal point to the white wall, and brings a lively energy to the room. It also nicely balances the awesome green sofa across the room. Check out our DIY blog post so you can make one yourself!
We whited everything out from walls to doors to ceilings to trim. This was an affordable way to unify everything, but also allowed us to bring in tons of color in tile, wallpaper, light fixtures and through staging.
We love hardwood floors but the ones in this flip house needed some serious TLC. After seeing all of the stains on the wood floor, we chose to go with a dark finish to cover them up. Now they are good as new! This design choice saved us a ton of money as we were able to get rid of the stains without replacing the entire floor.
We kept this bedroom crisp and clean while bringing in some pops of color and warm, natural finishes. We chose a white comforter but then drew in our favorite colors once again with pink throw pillows and a sea foam green patterned sheet. Though these colors are subtle, they add visual interest and break up the white space.
This woven headboard brings in a natural element, adding some warmth to the space and also provides another great texture.
We used black light fixtures and wall decor to accent the space. Once again, spray paint saves the day! Many of the light fixtures, like the one pictured above, were originally brass that we spray painted black. Spray painting light fixtures is a quick and easy way to achieve the look you want. And don't worry about the paint chipping away. Light fixtures are rarely touched and receive little wear and tear so they should hold up well.
And did we mention we love vintage? Pretty sure we did. These road signs are from our favorite local vintage shop. It is always fun to mix in a little old with the new. These signs add interest to an otherwise plain hallway wall.
Check out these side-by-side before and after photos! Quite the transformation, right?